Walter Bishob that is ..... the mad scientist on Fringe as played by the fantastic John Noble.
<
:

amused

:

The Moonstone by Wilkie Collins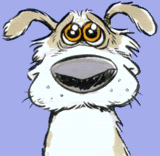 Happy Birthday Glitter Graphics
Hope you're having a wonderful Birthday
Melisa :)

SciFi channel why do you continue to disappoint? Why isn't the last episode (Here Come The Suns)of Eureka up on the website before the next new one airs??? Is it to punish me for tuning in to Fringe last week and planing on doing the same this week? Is that it? Well it ain't gonna work! All I'm going to get is cranky with your network and continue tuning into FOX (I can't believe I just said that). *sticks tongue out then goes off to pout some more*.

'Tis now available on iTunes. So all you crazy Dr. Horrible Adorerers can now Sing-Along anywhere you want to :)
:

excited

:

Sing Along Blog
glitter-graphics.com
Hope you're having a wonderful Birthday!
:

cheerful
Shiri's back on TV.... If you've not been watching ER, I bet you're gonna start :)